Contemporary Art Prints of Bath
Enjoy browsing this collection of my work – featuring contemporary art prints of Bath – my home town – as well as scenes from my travels. Find out about how and what I paint. Discover where my paintings are exhibited. Read my art blog to unfold the story of a painting. Buy an affordable custom Giclée art print of an original painting. Select from a range of sizes. Or buy an original. Work featured in Bath Magazine.
Buy A Giclée Art Print of Bath, produced from an Original Painting
I would like to introduce my work to you, and I hope you enjoy it. My paintings of Bath architecture are popular with Bath residents who enjoy looking at their favourite local scenes. Equally, my work appeals to visitors to Bath who want a unique memento of their visit.
My affordable Bath art prints make fantastic gifts that last a lifetime. As a traveller myself I feel a strong affinity with visitors to this fair city, and particularly with those from China, where I have made several memorable trips and gathered many Chinese friends.
I love to share my artistic impressions of my beautiful home city, where I have lived for 20 years with my wife and cats. I have created some unique and contemporary art prints of Bath that show a different and sometimes darker side of the city: my paintings of Bath architecture don't shy away from the stained stonework and peeling paint that are part and parcel of many glorious buildings.
Affordable Contemporary Art Prints of Bath Architecture
As there are so many pretty images of Bath already available, I avoid painting the standard picture postcard views. My compositions provide a different perspective, and my aim is to make these affordable contemporary art prints of Bath available to all.
You can buy custom Giclee prints of my original paintings of Bath in a range of sizes. They can be safely and easily transported and then framed in your preferred style, providing a high-quality art print for you to enjoy for many years to come.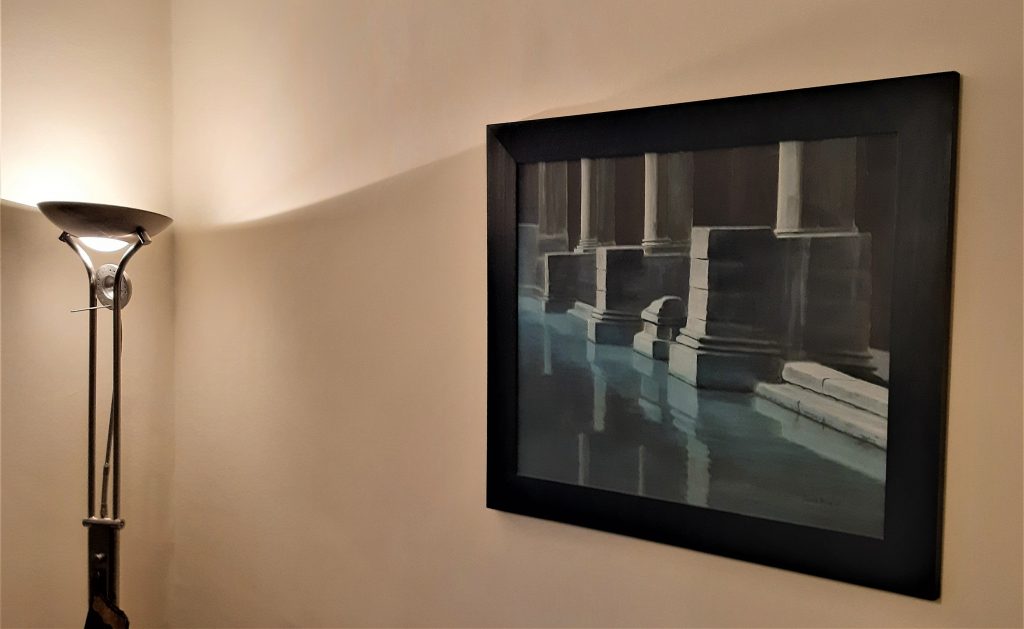 My paintings have been regularly exhibited over the last 15 years including in solo shows. I have exhibited and sold work at the Abbey Hotel Art Bar, The RUH hospital, the Visit Bath Shop and Larkhall Open Studios. Bath Life magazine has done a feature article on my work. I have also been on the organising committee of Larkhall Open Studios, and have exhibited my contemporary paintings of bath architecture in their annual show for the last 15 years.
As an active contemporary artist in Bath, I have written blogs, given talks at my private views, and delivered workshops on landscape painting over the years. I enjoy participating in the Bath arts community, and regularly post my work on Instagram. You can follow the process of a painting developing stage by stage. And add your comments.
My creative direction has been inspired by the buildings, water, and Bath architecture that surrounds me. I am incredibly lucky to live in such a beautiful city. Even after being here for decades I can turn a corner and see something that stops me in my tracks and offers inspiration.
"I enjoy the view of Bath roof tops from my window now thanks to David Ringsell's  art I can also enjoy it on my wall."
Vera, Bath resident.
Enjoy looking at my gallery of contemporary art prints of Bath, today!